Flaws in the open air

A multidisciplinary project is a study of human vices.
The first steps were anonymous surveys of residents of four different cities in Ukraine, Poland, Germany, and Lithuania. Participants were asked to name their character traits that they consider to be negative, preventing them from achieving their goals and often being deeply hidden. Vices, that are not comfortable to be talked about and that people would like to get rid of, became the basis for the installations.
Words from mirror were taken out in the public. Thus, the hidden features became public, mirroring their observers, bringing them together with their common fears and hopes for self-control and self-acceptance.
2015-2019
Mirror mosaics are located in these public places:
Ukraine.



The project began in the Ukrainian capital. Words-signs took their honorable place on Lysa Hill, Volodymyrs'ka Gorka, in Kitaevo, on the territory of the Kyiv-Pechers'k Lavra, and Starokyivs'ka Hill. As a result of the survey, the Ukrainians singled out these flaws for themselves: "Ложь" (Lies), "Спесь" (Arrogance),"Лень" (Laziness), "Стыд" (Shame), and "Страх" (Fear).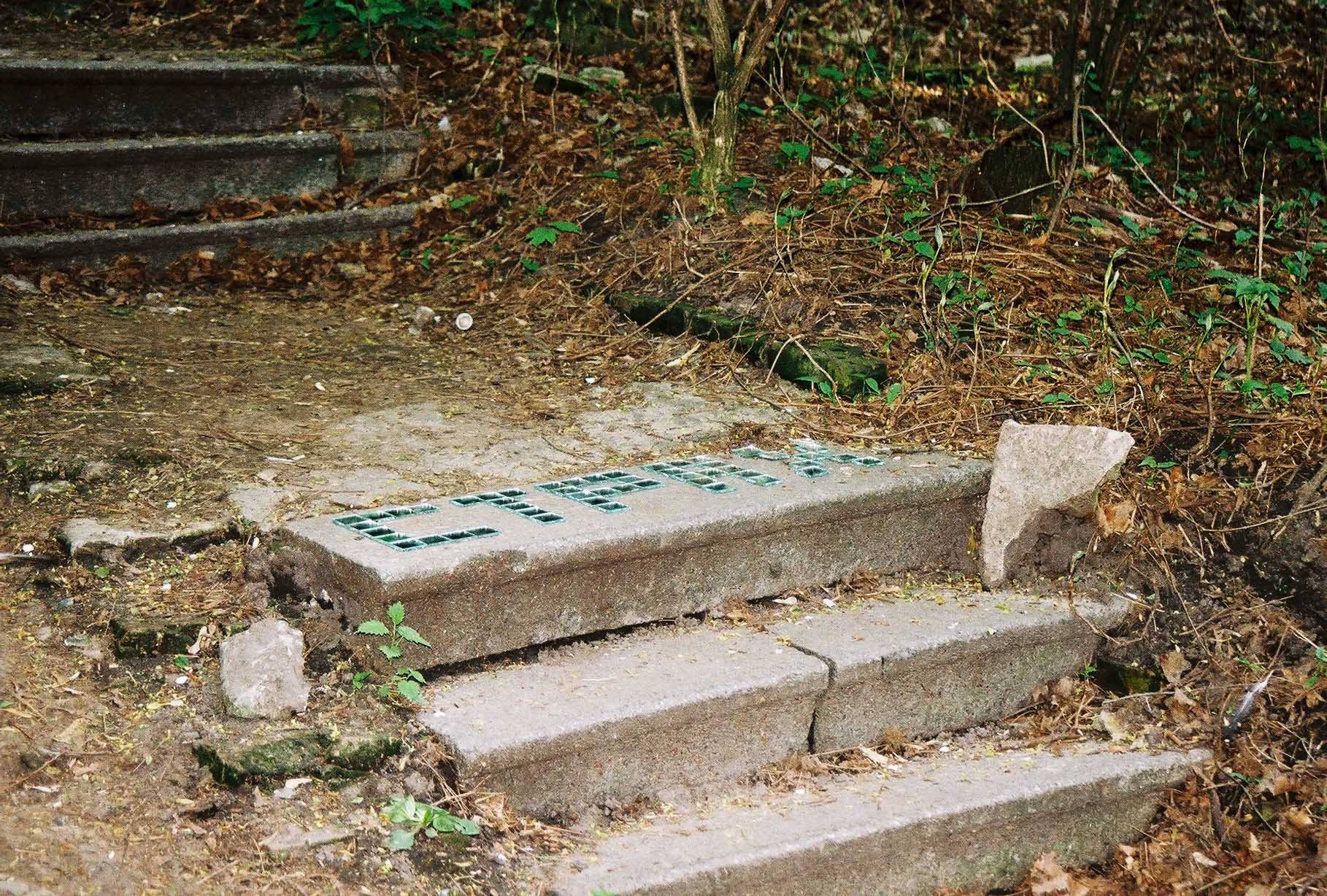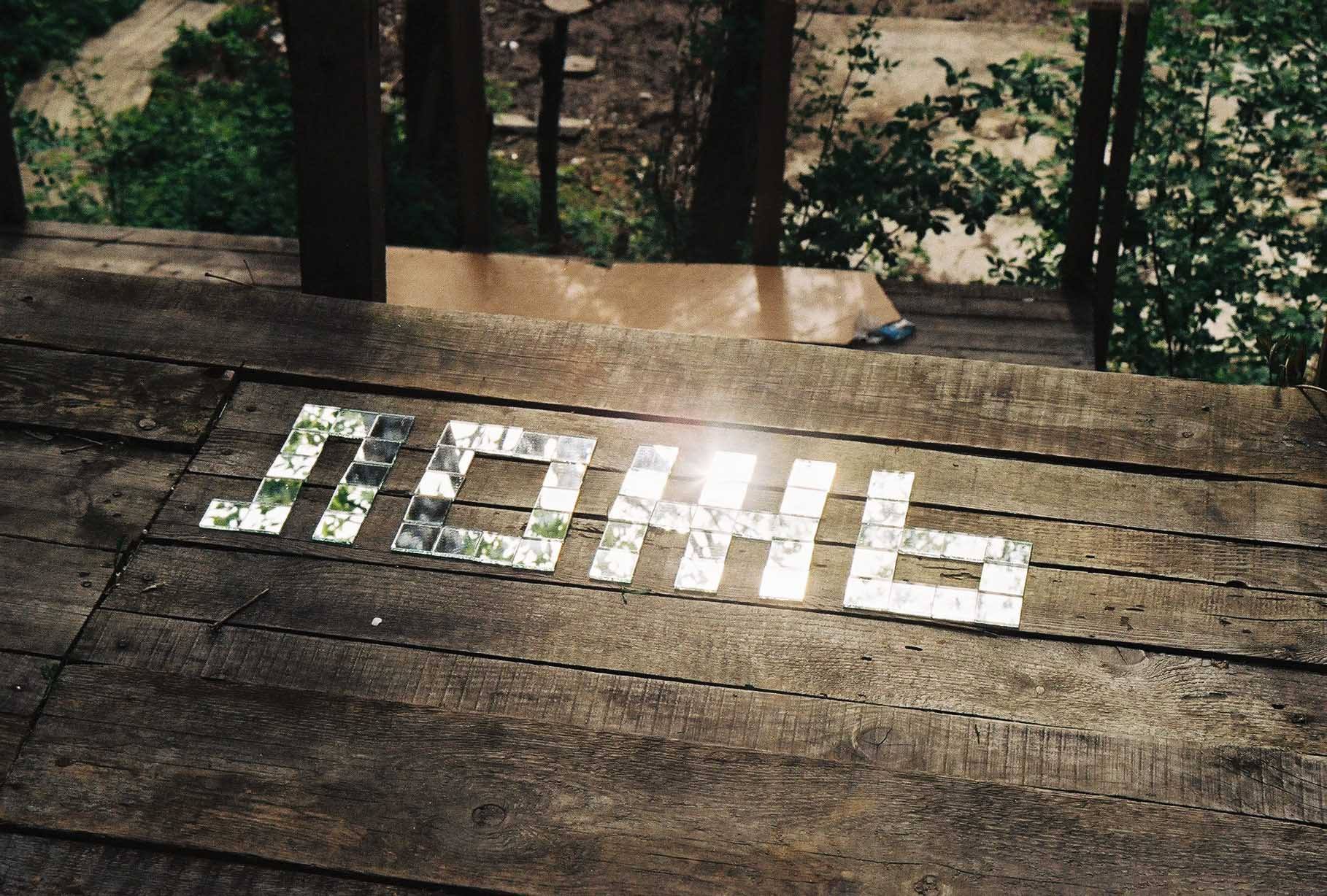 Poland.

The local people of the town of Ustka chose "Lenistwo" ("Laziness"), "Upartosc" ("Obstinacy"), and "Zazdrosc" ("Envy") as their vices. The installations of mirror words could be seen on the shore of the Baltic Sea, in the forest, and at the seaport.
Germany.
Karlsaue Park, Skate Park, Friedrich Square, and Kings Square in the German city of Kassel became sites for installations. The locals defined the following terms for themselves: "Intensität" (Tension), "Ernst" (Seriousness), "Schwermut" (Melancholy), and "Nachdenklichkeit" (Thoughtfulness).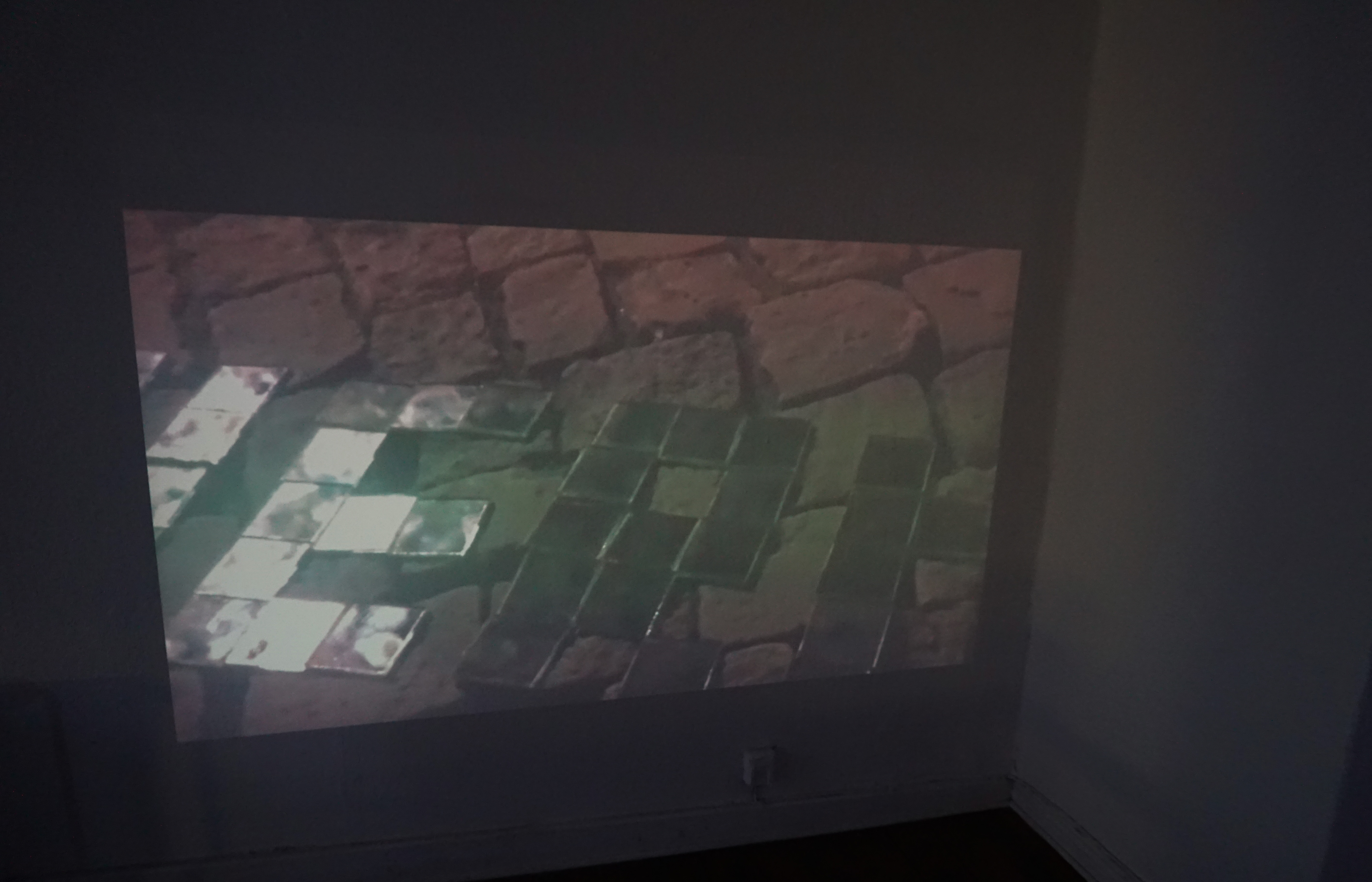 Lithuania.
5 mirror mosaics were placed in the area of the Vilnius Railway Station. In the region bordering the Old Center and Naujininkai, historically formed as a working-class neighborhood. The words "Atidėliojimas" (Procrastination), "Reiklumas" (Exactingness), "Kaltė" (Guilt), "Baimė" (Fear), and "Nesaugumas" (Unsafeness).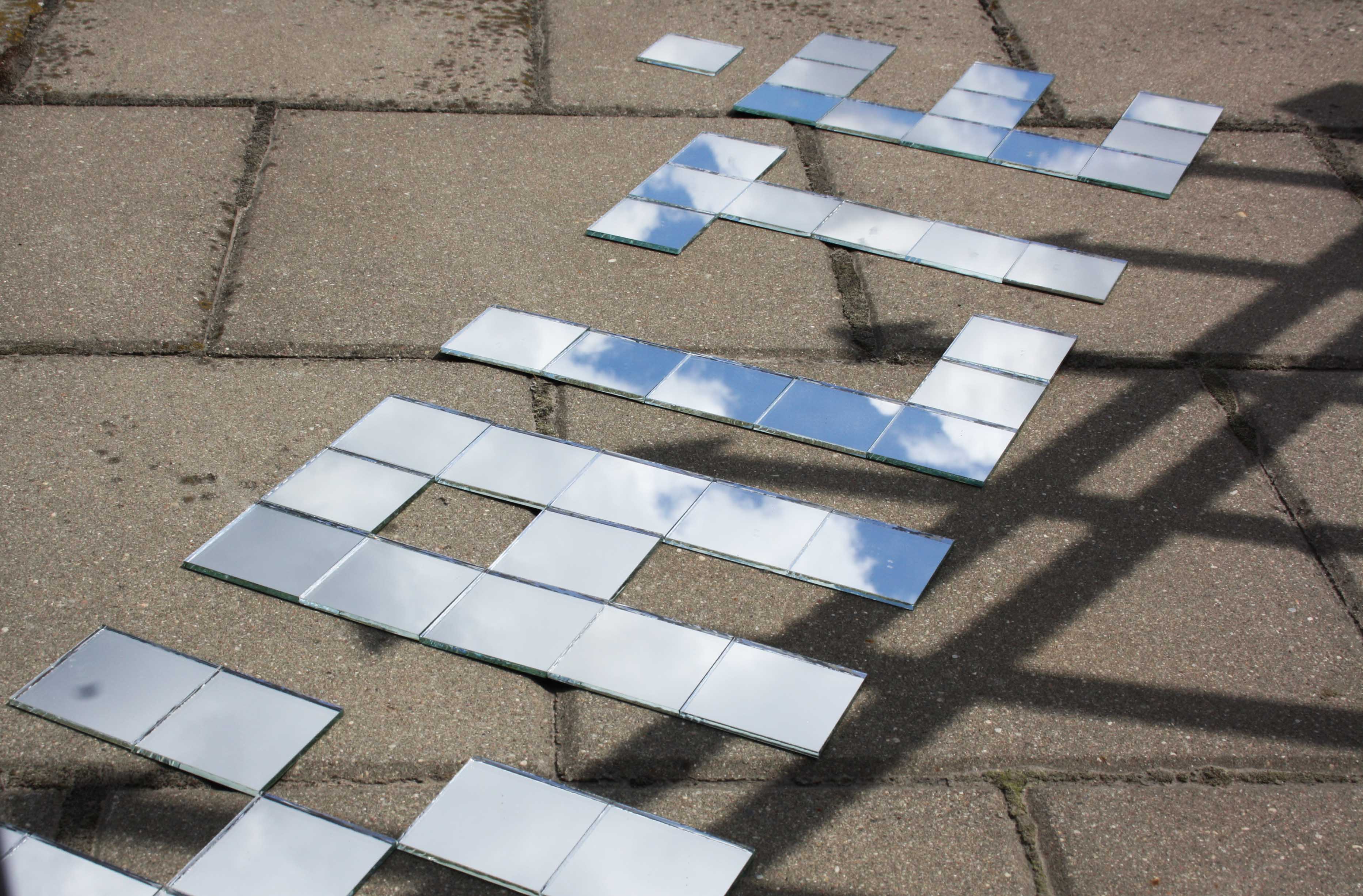 The pacifists

Mirror on steel plates
Nationalism, chauvinism, racism, sexism and other forms of rejection of another's worldview and identity make us think about the involvement of every person living in modern society, without exception. Often, fighters for justice in a specific field of activity show an extreme intolerance towards religion, sexual orientation or race. Where does our freedom end? To which extent is each of us involved in discrimination as a whole?
The project is a steel plate, on which the most popular symbols of certain religions, symbols of sexual or national identity are placed. Thus, the mirror surface of steel and its parts themselves reflect a person who looks at it, becoming involved in this particular minority by means of a visual image.
Play with food
Enamel on steel plates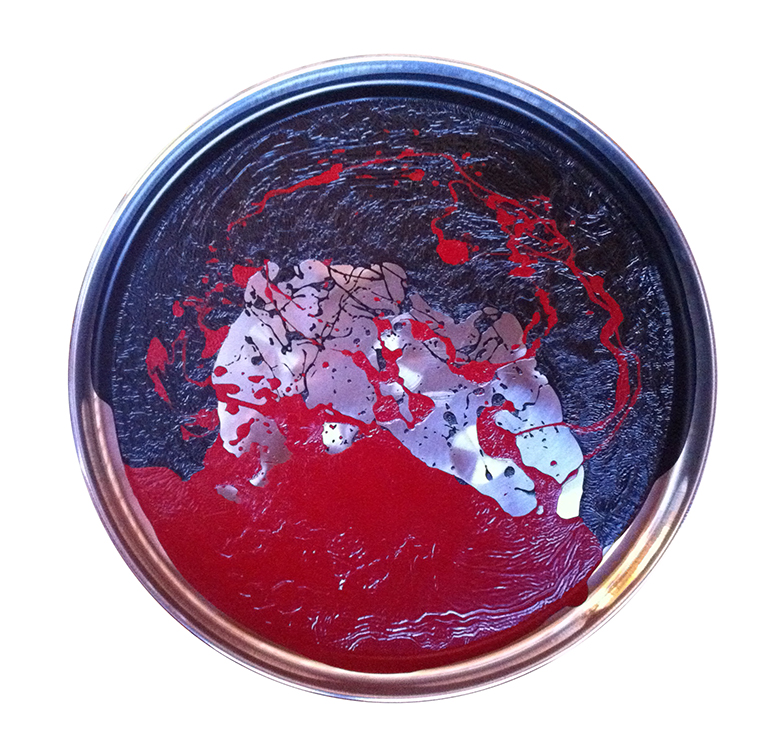 Artist is reflecting the topic of modern culture of food consumption and its consequences in his work "Play with food". The title of the project refers to a stable expression that parents usually address to children - "Do not play with food!". Eating has always been at the heart of social and interpersonal relationships. Even today, when there is no problem with the production, food permeates all aspects of person's life, from economic to political. How can everyday food be reflected physically and emotionally for each person?
The behavior of animals, insects, birds is programmed by a system of instincts: they initially understand how and what to eat, how to survive, how to nest, when and where to fly, etc. The system of instincts has faded for human beings. The function that nature performs in the instincts, is performed by culture in human society.
Despite modern diversity and abundance, food continues to dominate the minds of mankind and influence people's lives. The culture of food, the ways of its extraction, the composition of food, the traditions of its reception continue to play a central role in people's lives, to influence the most diverse aspects of their existence. But human continues to remember that this is almost the only legacy of the animal world that he can not overcome by any force. And he continues to be embarrassed by such a low topic, which is such an important part of his life.